The Rad Power Bikes RadMini is an affordable electric commuter bike that offers power, convenience, and versatility in a sporty little package. With a folding frame design smaller than a standard-sized e-bike, the RadMini can be easily stowed in a camper or on a boat, ready to be deployed as adventure calls. And, did we mention that no fossil fuel is required?
What Is The RadMini E-Bike?
The Rad Power Bikes RadMini is an electric commuter bike, that you can quickly fold and easily store when space is at a premium. But don't let the "mini" in its name fool you, this e-bike is sturdy and powerful … ready for any terrain you feel compelled to conquer.
RadMini Step-Thru Option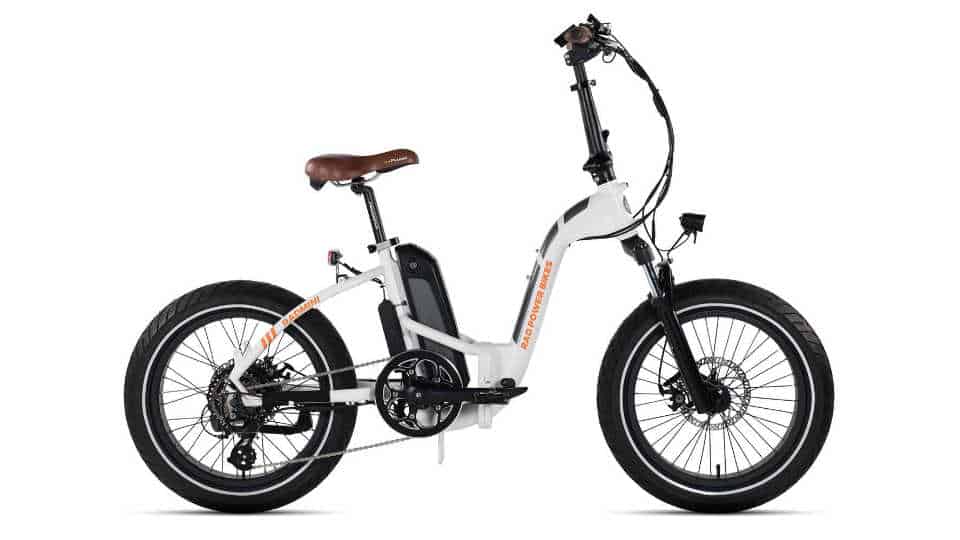 The RadMini e-bike is also offered with a "Step-Thru" option. This version features a low-step frame design offering the smallest stand-over height in the Rad Power Bikes line. And, although the high-step bar has been removed, the bike's ability to utilize Rad's various modular add-ons remains.
RadMini Specs
Range: 25-45+ Miles
Top Speed: 20 MPH
Hub Motor: 750 Watt Shengyi Direct Drive
Battery: 48 Volt, 14 Ah Lithium-Ion w/ Samsung 35E Cells
Charger: 48 Volt 2 Amp Rad Power Bikes Smart Charger
Display: Backlit LCD with Charge Indicator, Speedometer, Odometer, Trip Odometer, Pedal Assist Level, Wattmeter, and More
Lights: Front – Spanninga PR60 48V with Ambient Light Sensor Option;
Rear – Integrated Taillight with Brake Light Indicator Functionality
Peddle Assist: Intelligent 5 Level Pedal Assist with 12 Magnet Cadence Sensor
Weight: 67 Pounds
Payload Capacity: 275 Pounds
Price: $1,499
What Is Special About The Rad Power Bikes RadMini?
The RadMini, Rad Power Bike's smallest e-bike offering, is just as sturdy and as powerful as the rest of their 2019 line. Foldable for easy transport and storage, its diminutive design makes the RadMini the perfect electric bike to pack in your camper for a road trip. Also, when collapsed, its small footprint and manageable hoisting weight is ideal to stow on your boat when you need convenient transportation upon arrival at your destination. Also, this e-bike just looks great and has awesome cutting edge components. Combine it with a few of Rad's modular add-ons to gear up for duty and this rolling powerhouse is fit for any occasion. Need a powerful transportation alternative but space is at a premium? Rad Power Bike's RadMini checks all of the boxes …
Where Can I Buy The RadMini Electric Commuter Bike?
You can buy Rad's RadMini on their website at radpowerbikes.com … that's the only place. And, at just $1,499, with free shipping within the lower 48 states, that is quite a deal for cutting edge environmentally friendly alternative transportation.
If you desire to test ride the RadMini before you buy, be sure to check the company's website for their world-wide map of showrooms and rental locations that will allow you to take one for a spin before you purchase from their website.
Rad Power Bikes RadMini In The News
Rad Power Bikes, North America's largest e-bike brand, has designed custom electric bicycles for the Domino's Pizza chain that will facilitate more efficient, and environmentally friendly, Domino's pizza delivery. The e-bikes will officially roll out in Baltimore, Houston, Miami, and…
Source
Rad Power Bikes: Company Website