The AYRO Vanish has been in the spotlight over the previous year, inching closer to production from AYRO's factory in Texas. The electric mini-truck is now in the final stages before manufacturing commences, a process called homologation, which is attracting significant attention.
The Vanish, an electric utility vehicle, falls within the federal low-speed vehicle (LSV) category. Its design features a lightweight structure that keeps the overall weight in check and allows for a maximum payload.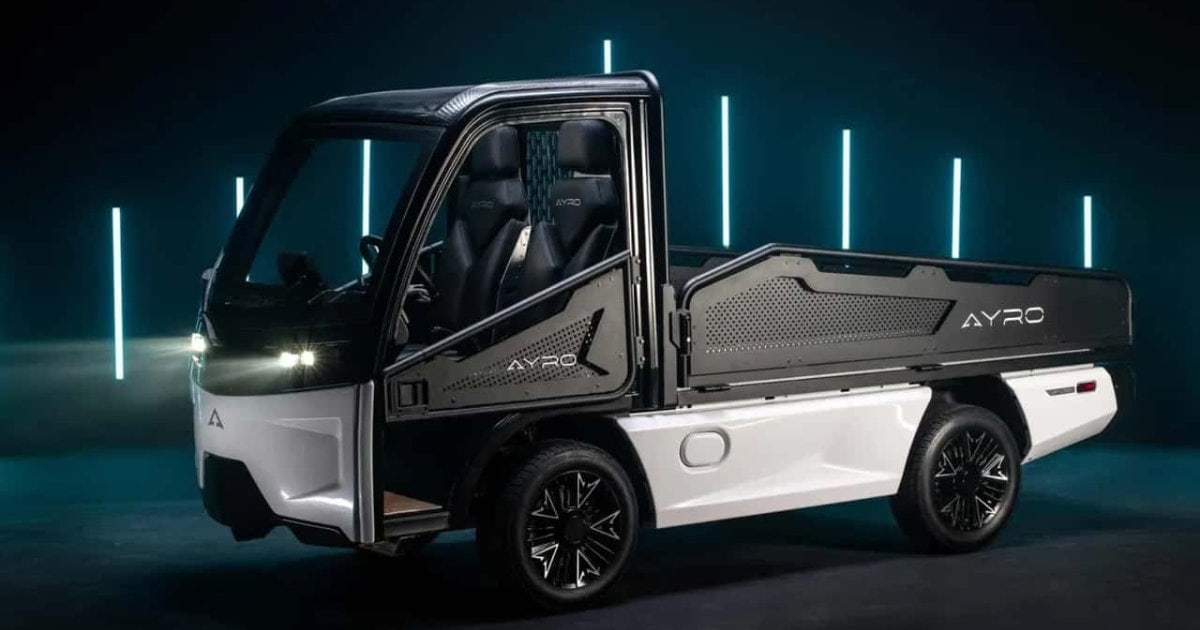 This nifty mini-truck boasts an impressive payload capacity, reaching up to 1,200 lb (544 kg). This is comparable to numerous conventional pickup trucks on the market. For instance, the payload capacity of a 2023 Ford F-150 starts at 1,310 lb (594 kg). AYRO also revealed plans for a non-street legal version of the Vanish, which will offer an increased payload capacity of 1,800 pounds (816 kg), ideal for workplaces, campuses, and other places where public road use isn't necessary.
The Vanish stands out with its adaptable configurations, unlike traditional pickup trucks. The vehicle offers a variety of optional rear cargo setups such as food boxes, flat beds, utility beds with three-sided tailgates, and van boxes for secure storage. These options highlight the potential commercial use of this innovative vehicle.
As the vehicle undergoes its street-legal testing, commercial customers might soon get a taste of the Vanish's versatility. This final test means that the various configurations of the vehicle could soon be seen on the road.
AYRO's CEO, Tom Wittenschlaeger, outlined the company's forward progress. He stated that after their rigorous internal testing, they are now working to ensure the Vanish meets the national governing body's requirements. Once they receive final approval, AYRO can begin to distribute the vehicles to customers and dealers.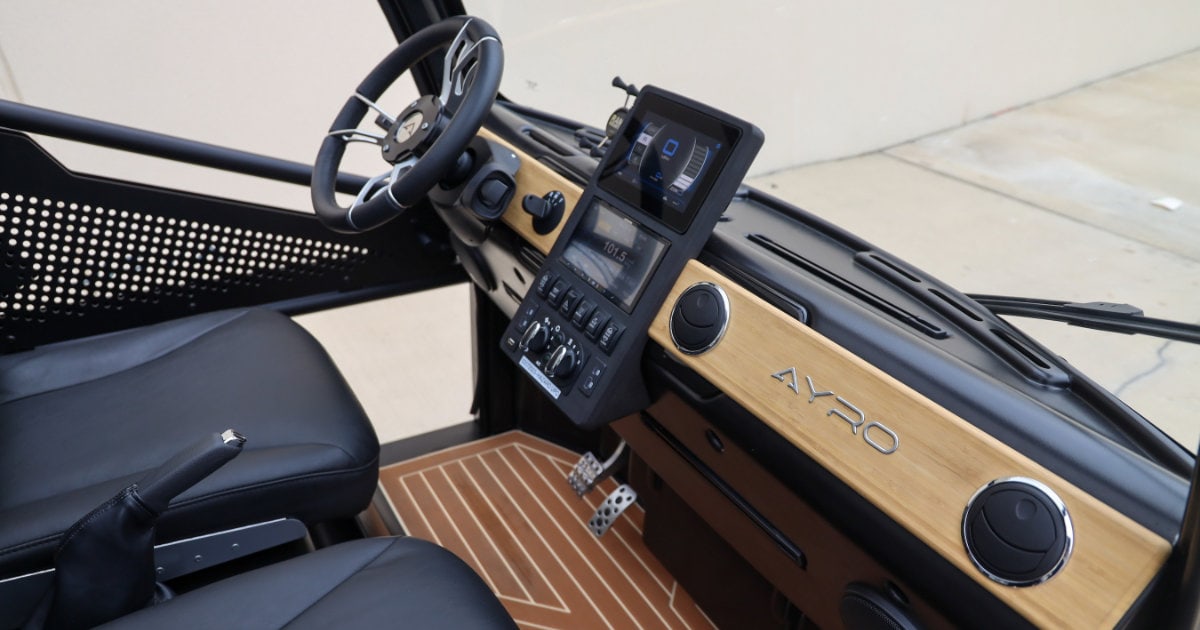 For a vehicle to be considered for sale, it must comply with safety standards and government regulations. Low-speed vehicles like the Vanish may face fewer regulatory challenges, but they still need to meet safety requirements and design considerations. These include construction, design, durability, and performance requirements, overseen by bodies like the National Highway Traffic Safety Administration (NHTSA) in the United States.
This thorough approval process classifies vehicles by date and category. It also certifies technical information and specifications. The Vanish is undergoing this process for both the US and Canada, including tests such as Federal Motor Vehicle Safety Standards (FMVSS) 500, Canada Motor Vehicle Safety Standards (CMVSS) 500, and the California Air Resources Board (C.A.R.B.).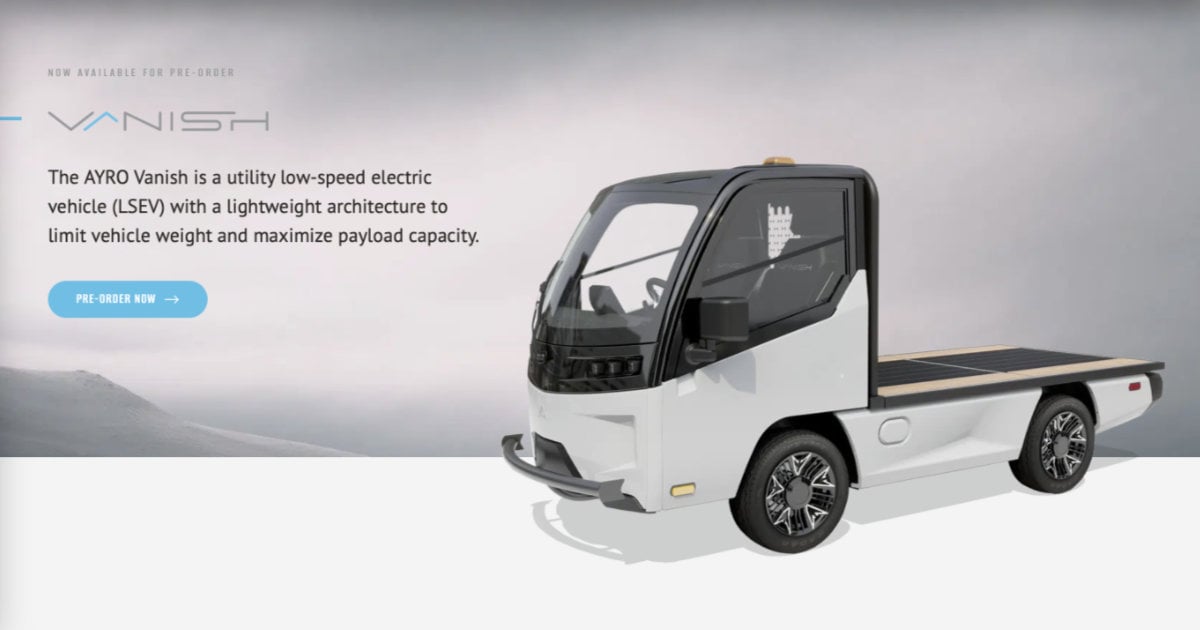 Simultaneously with the homologation process, AYRO is prepping to kick off Low Rate Initial Production (LRIP) in early June. This will involve manufacturing the first 50 Vanish units, intended as demo models for contracted dealers. AYRO's plan is to shift into full-scale production following the successful completion of these initial 50 units.
Senior Vice President of Programs at AYRO shared the team's excitement and preparation for this significant step. He also mentioned their plan to commence LRIP simultaneously with the homologation process and start delivering vehicles to customers and dealers soon after.
The AYRO Vanish, which was made available for pre-orders earlier this month, has a starting price of $33,990. Although the price tag may seem steep compared to other imported electric mini-trucks, the Vanish's modular design and its upcoming street-legal status set it apart.
Terry Kahl, AYRO's Vice President of Dealer Sales, spoke about the benefits of a modular platform. He believes that the Vanish's swappable bed configurations offer a use case for almost any dealer's existing clients.
---
Frequently Asked Questions About Low-Speed Electric Vehicles
What are low-speed electric vehicles (LSEVs)?
Low-Speed Electric Vehicles (LSEVs), also known as neighborhood electric vehicles (NEVs), are street-legal vehicles that typically operate at speeds of up to 25-35 mph. They are equipped with electric motors and are designed for short-distance commuting within communities, urban areas, or restricted-speed zones. LSEVs are smaller and lighter than conventional vehicles, making them efficient and environmentally friendly options for local travel and light hauling tasks.
Are low-speed electric vehicles (LSEVs) safe?
LSEVs are generally built to comply with safety standards set by the National Highway Traffic Safety Administration (NHTSA) or other relevant bodies. While their speed limit and lighter construction differentiate them from conventional vehicles, they are required to feature basic safety equipment, including headlights, seat belts, and mirrors. However, their use is most suitable for low-speed, local, or private roads, and they may not be recommended for high-speed highways or heavy traffic situations. Always remember that the safety of any vehicle also largely depends on the driver's habits and awareness.
---
Source
AYRO: Website