The Tesla Solar Roof is a building-integrated photovoltaic (BIPV) system that completely replaces an existing roof with sunlight collecting solar tiles. In contrast, a traditional solar panel installation affixes brackets and panels over an existing roof. Therefore, Tesla's offering allows for installation of a beautiful integrated PV system without compromising your home's traditional sight lines, allowing the solar tiles to compliment your home's architecture instead of detracting from its appearance.
---
Table of Contents
---
How Much Does The Tesla Solar Roof Cost?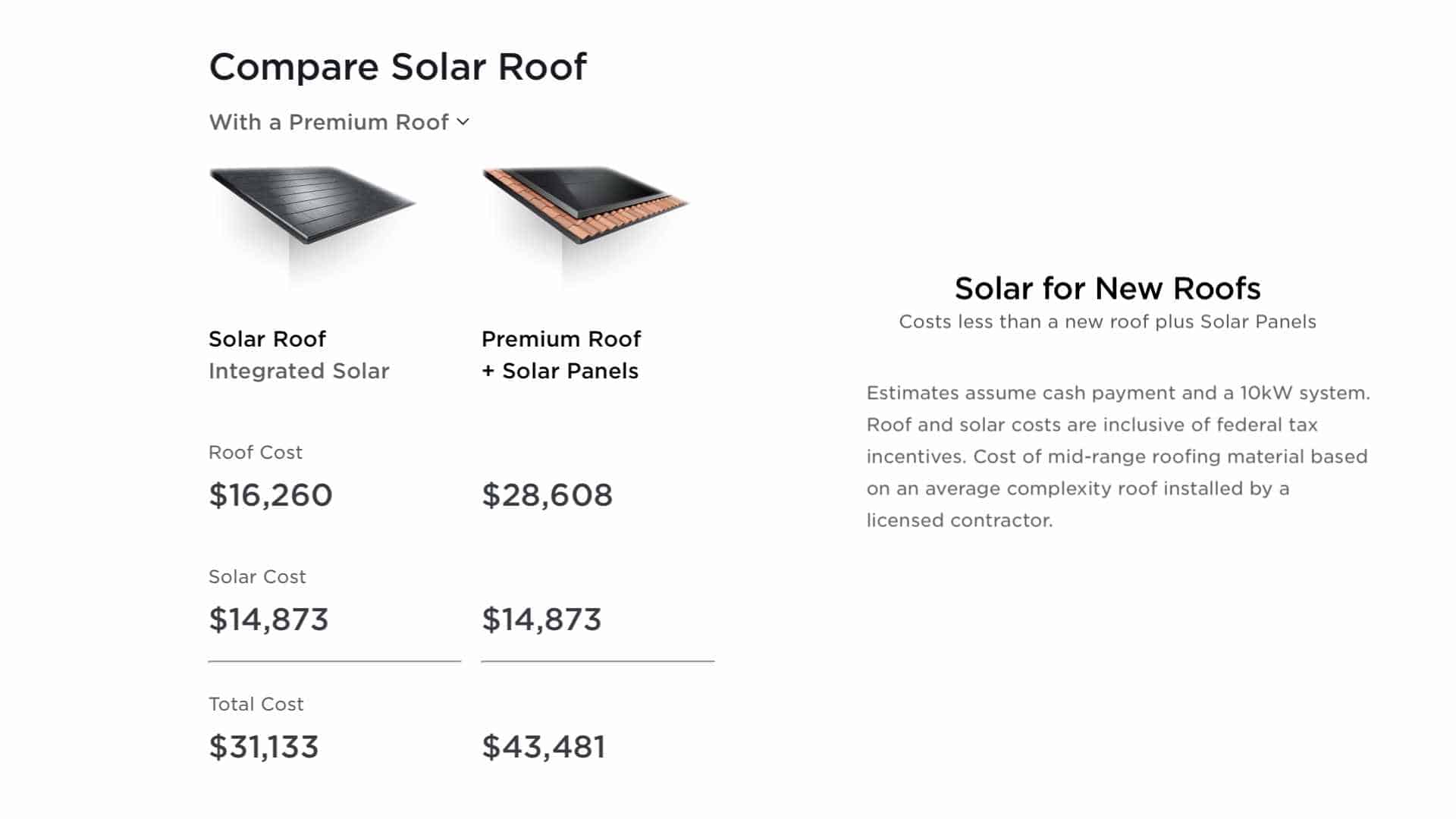 The cost to install a 10kW Tesla Solar Roof is approximately $31,000, which factors in the current federal tax credit. Installing a Solar Roof includes installation of a new roof underlayment ($16,000) and installation of the Solar Roof tiles ($15,000). This puts the installed price at approximately $3.10/Watt, which is only slightly more than the national average for traditional solar panel installs which come in at $2.91/Watt and are affixed to your existing roof. Considering that Tesla's offering includes a brand new roof, the Solar Roof becomes particularly cost effective on original construction or when the homeowner's roof already needs to be replaced.
Tesla's website offers a Solar Roof Calculator into which you enter your address and average monthly electric bill. The calculator estimates the size of your roof from satellite photos and presents you with a recommended Solar Roof size based upon how much electricity you regularly consume. Tesla also suggests how many Powerwalls should be added to optimize the system for self-sufficiency, although the Powerwalls are optional. You can access Tesla's Solar Roof Calculator and find out what is recommended for your home here.
What Does A Solar Roof Look Like?
Tesla Solar Roof tiles are designed to look just like normal roof tiles, being completely integrated into the roofing material and not protruding above the roof like typical solar panels. This is accomplished during the manufacturing process by implanting a high-efficiency Panasonic solar cell right into the tempered glass tile. This provides for a look that is very clean and modern, blending right into the architectural aesthetics of your home. In fact, unless you know what to look for, you likely would not be able to distinguish a Tesla Solar Roof from a regular shingle roof. Such seamless integration is important, and a serious consideration for homeowners looking to incorporate solar into a new build or add it to and existing home. It also makes Tesla's solar array stand out from its competitors who have yet to develop similar completely-integrated solutions.
What Color Solar Roof Tiles Are Available?
Tesla originally offered their Solar Roof tiles in four colors: Smooth Glass, Slate Glass, Textured Glass, and Tuscan Glass. However, the current 3rd generation tile (v3) is only available in Textured Glass. Smooth, Slate, and Tuscan have been temporarily discontinued due to limited demand. At this time, it Is unclear whether Elon and his sustainable energy team will choose to bring back additional tile colors or stylized options.
How Efficient Are Tesla Solar Roof Tiles?
Tesla's Solar Roof tiles have a relatively low efficiency rating of approximately 5%. As we have been unable to locate any spec sheets for the current v3 Solar Roof tiles, this is a rough estimation that required a little fuzzy math based on the information we do have. From the label affixed to the new v3 tile box, we know each individual tile has a maximum power output of 24 watts under Standard Test Conditions of 1,000 watts/m2 of sunlight. We also know the tile dimensions to be 1.14m x .430m (.4902m2) which gives each tile a power per unit area of 49 watts/m2. To determine efficiency, we divide the tile's power per unit area by the solar irradiance at STC or: 49/1,000 = 4.9%. However, this is assuming that the entire exposed surface of the tile is collecting sunlight.
Even though panel efficiency is an important consideration, a relatively low rating of approximately 5% is not necessarily a deal-breaker. Ultimately, Solar Roof installations need to meet the electricity needs of the end users. And, recent reviews indicate that Tesla installations are in fact meeting 100% of the customers' energy requirements. Therefore, if Tesla Solar Roof tiles are able to achieve that goal by filling a significantly larger proportion of a homeowner's roof than a standard solar panel array, then the efficiency metric is less important to the decision making process of a prospective purchaser.
How Is The Solar Roof Installed?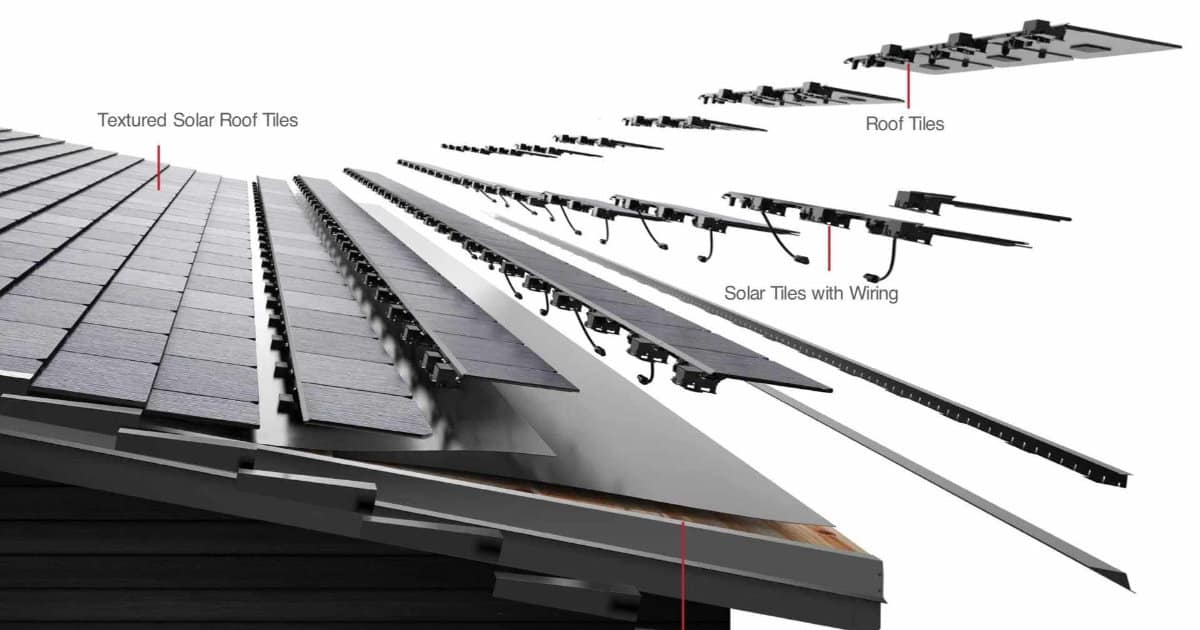 A Tesla Solar Roof installation is completed in four stages: design, roof removal, waterproofing, and solar tile installation. First, an in-house team of energy professionals use aerial imagery and 3D modeling to custom design the perfect solar tile installation for your particular roof size and shape. Second, your old roof is removed quickly and efficiently. Third, a durable waterproof underlayment is applied to keep your home safe and dry. Finally, solar tiles are installed using Tesla's quick and efficient tile installation system.
The installation process currently takes approximately 1 to 2 weeks, although some new installations have been completed in as few as four days. Recently, Elon Musk stated that he would like to be able to have a complete Solar Roof installed in less time than it would take to install a standard composite shingle roof, or about 8 hours. However, it will likely be quite some time before Elon's one day installation plan becomes a reality.
What Is The Tesla Solar Roof Warranty?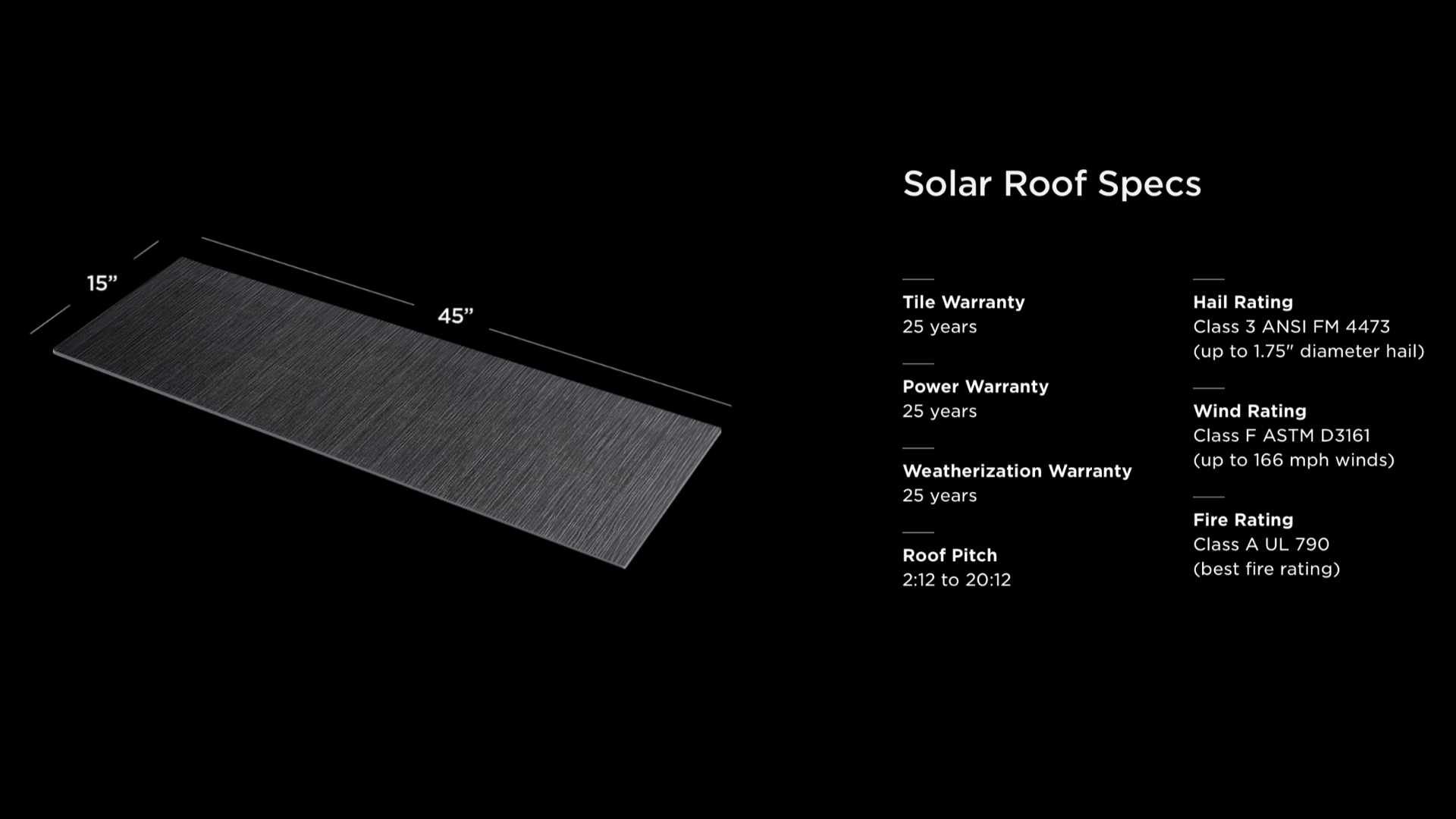 Tesla offers a better than industry standard 25-year tile, power, and weatherization warranty. In contrast, most solar panel manufacturers only come with a 10-year materials warranty, although some higher-end panels do offer a 12 to 25-year warranty.
Solar Roof tiles are more than 3x stronger than traditional roof tiles and are engineered to withstand up to 166 mph winds, up to 1 3/4″ hail, and have the highest fire rating available. Accordingly, they are likely to outlast the already excellent warranty.
Do I Need A Tesla Power Wall?
No. The Tesla Powerwall is a compact home battery system that stores energy produced by your Solar Roof, making electricity available at night or during a power outage. Although an excellent addition to your PV system, and we highly recommend it, the Tesla Powerwall is not required, especially if you live in an area that offers net metering.
Is There a Monitoring App For The Solar Roof System?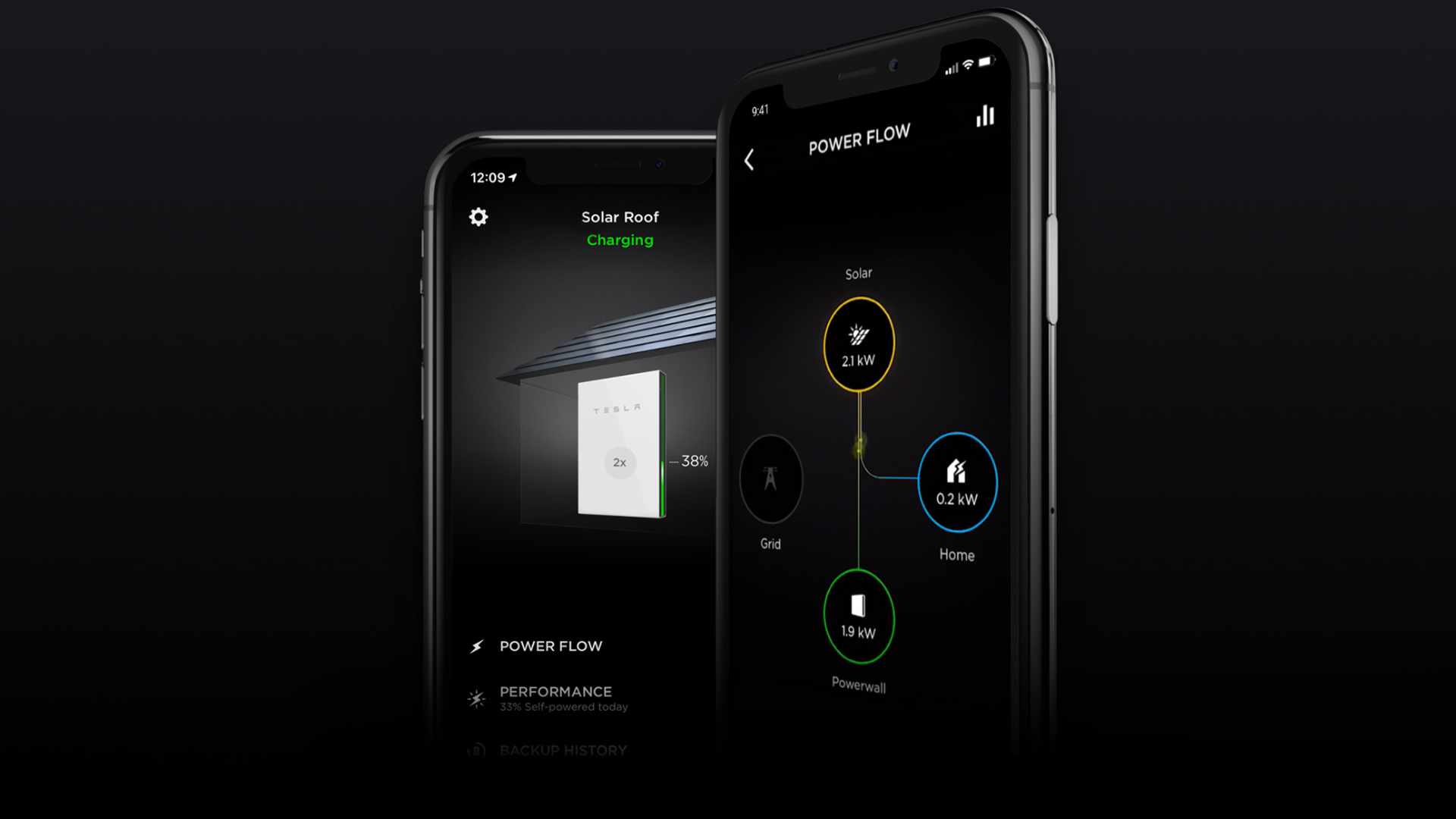 Yes. The Tesla app allows you to monitor energy production in real-time and control your PV system from anywhere in the world. It also provides instant alerts and notifications should an issue arise.
Does Tesla Offer Financing?
Yes. Tesla offers in-house Solar Roof financing that is available to those with qualifying credit. You may also finance the purchase price with a standard home equity line of credit, second mortgage, or a personal loan. Tesla loans have no up front fees or closing costs, nor do they raise the price of your system when you elect to use their financing. However, as of October 2020, the cheapest loan option is a HELOC with interest currently around 3%.
What Is The Availability?
Tesla produces all of its Solar Roof tiles at its Gigafactory in Buffalo, New York, and has recently announced its intention to break ground on Gigafactory II to increase production. However, in June of this year, Tesla starting canceling Solar Roof orders after years of accepting customer deposits. The reason offered was that Tesla was no longer serving particular areas of the country. Nonetheless, if you are within one of the newly designated covered regions, Tesla Solar Roofs are immediately available for installation … if you can find a qualified installer.
Is The Tesla Solar Roof A Good Choice?
There are four key metrics that should be evaluated when choosing a solar energy system for your home: price, aesthetics, efficiency, and warranty. As we discussed earlier, Tesla Solar Roof tiles cost more than their traditional solar panel counterparts when not factoring in the price of a new roof. However, when a new roof is added to the calculation, the Solar Roof actually costs less. Aesthetically, there is no question that Solar Roofs look much better on a home than protruding and industrial looking solar panel arrays. And, while not yet as efficient as modern solar panels, Solar Roof tiles can cover more area to equally serve the electricity needs of the homeowner. Finally, in addition to being a significantly stronger and more resilient product, Tesla offers an industry-topping 25-year warranty.
So, should you buy it? We love the Tesla Solar Roof. It is technically cheaper per Watt (minus new roof costs) than a traditional solar panel system and looks great seamlessly integrated into your roof tiles. However, if you are not already in need of a new roof, a significant portion of the total installation cost is being spent on purely aesthetic considerations. Therefore, as with Tesla's electric cars, it's a personal choice as to where you want to put your money. We just happen to love Tesla products and how the Solar Roof has been incorporated into the Tesla ecosystem.
Where Can I Order A Tesla Solar Roof?
Ordering a Solar Roof is fairly simple and can be accomplished either via a referral code or right on the Tesla website. The order process requires you to input your address and current electric bill cost and requires a $100 deposit to get the process started. After your order has begun, Tesla asks for pictures of your home and electrical panel to assist its energy professionals in creating a custom design. Shortly thereafter, you will receive a final design, quote, and proposed agreement to proceed with the installation.
Tesla Solar Roofs In The News
NASA has now taken receipt of a fleet of specialized vehicles that will play a crucial role in the Artemis lunar missions. Built by Canoo Technologies, these vehicles are responsible for the terrestrial part of the astronaut's journey to the…
Source
Tesla: Website